Catholic News Agency | 042018 | Latest News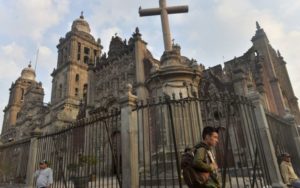 He is the 22nd priest to be killed in Mexico over the last six years
A Mexico priest has been stabbed to death in his parish, in the latest attack on clergy in the country.
Fr Ruben Alcantara Diaz, 50, was attacked on April 18, just prior to the 7pm Mass at Our Lady of Carmen Parish in Cuautitlán Izcalli, the Diocese of Izcalli said in a short statement.
The priest, who was also the diocesan judicial vicar, was accosted by the assailant and was involved in a discussion prior to the attack, according to Mexican media.
The assailant alleged abuse in his shouts and fled the scene, the newspaper Reforma reported. His whereabouts remain unknown.
He is the 22nd priest killed in Mexico during the current administration, which began in 2012, according to the Catholic Multimedia Center. It said Mexico leads Latin America in the killing of priests.
The organisation said there was no immediate explanation for the stabbing of Fr Alcantara Diaz.