Aug. 7, 2019 | Morning Star News
---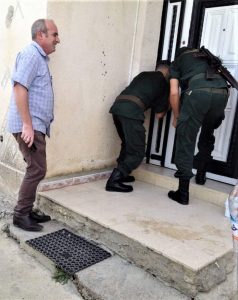 TIZI-OUZOU, Algeria (Morning Star News) – Interrupting a worship service, police on Tuesday (Aug. 6) sealed a church building in north-central Algeria, less than three months after locking shut another site in the same area.
"I am deeply saddened by so much injustice – it breaks my heart," pastor Messaoud Takilt told Morning Star News. "This is not surprising since other Christian places of worship have been closed and sealed as was the case today. But anyway, we will continue to celebrate our services outside while the Lord gives us grace for a final solution."
Gendarmes from Makouda had shown up on Saturday (Aug. 3) during the church's service in Lekhmis village, Boudjima, about 20 kilometers (12 miles) northeast of Tizi-Ouzou in Kabylie Region. They left Pastor Takilt a three-day ultimatum to remove all contents from the building and a summons to report to the brigade.
On Tuesday (Aug. 6), the gendarmes returned around noon to seal the building as the church worshipped, Pastor Takilt said. They summoned him outside, where he told them the congregation did not want to leave the building. The gendarmes showed him their orders and urged him to cooperate.
"We are here to execute an order, and we will execute whatever it is," the officer replied, according to Pastor Takilt. He added that the officer took him aside and said, "Messaoud, understand that if there is opposition, it is you, as the one responsible, who will have problems. Please note that the file and order is addressed to your name."