Morningstar News | Aug. 29, 2019
---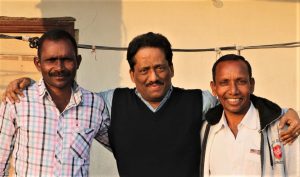 NEW DELHI (Morning Star News) – When Bijaya Kumar Sanaseth went to jail for a murder in India that he did not commit more than 10 and a half years ago, his mother was still alive and his oldest child was 9 years old.
"I have not seen my children grow," Sanaseth, the second Christian to be released on bail of the seven wrongly convicted of killing a Hindu extremist leader, told Morning Star News between sobs. "My six children were very young with my youngest child, a girl, being 1-year-old, and my oldest, a boy, was 9 years old. Today the youngest is 12 and my oldest is 20. Nobody can give me back the years that I have lost."
Sanaseth and the six other Christians were convicted in September 2013 of the murder of Swami Laxmanananda Saraswati, whose death on Aug. 23, 2008 touched off anti-Christian attacks that killed 120 people, destroyed nearly 6,000 homes and displaced 55,000 Christians. Now 47, Sanaseth was released on bail on July 27, two months and six days after fellow convict Gornath Chalanseth was bailed out on May 21.
"I faced a lot of hardships in jail – I thank God for this freedom," Sanaseth said. "I trusted God would bring me out one day."