Morningstar News | March 26, 2019
---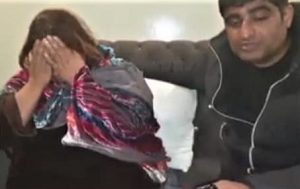 LAHORE, Pakistan (Morning Star News) – Returning home from a night shift at a call center on the outskirts of Islamabad, Pakistan on Feb. 25, Naveed Iqbal learned from his sons that a local criminal and three other men had taken his wife away, he said.
He filed a report at the Khana police station. Iqbal said officers took no action – except to alert the suspect, Muhammad Khalid Satti, that he had filed a report against him for abducting his wife, Saima.
"On March 5, police informed me that Saima had been found, but that she had converted to Islam and married Satti," Iqbal told Morning Star News.
Officers told him to forget about his wife and stop pursuing the case, he said.
Married for 15 years, Saima Iqbal had lived with her husband and their three sons, ages 4 to 14, in the Iqbal area outside Islamabad since 2004, he said.
"Satti is a hardened criminal, and this is not the first time he has targeted Christians," the 40-year-old Catholic man said. "Some 300-400 Christian families live in the area, and almost everyone has been bullied or tortured by Satti and his accomplices over the years."